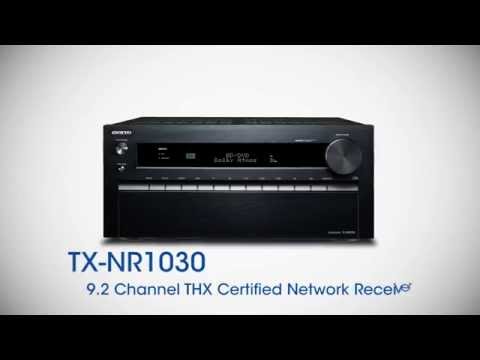 9.2-Channel 4K Home Theatre Receiver (TX-NR1030)
Features
Get tomorrow's high-impact entertainment today with the TX-NR1030. Separate amp and processing blocks, a massive high-current transformer, seven Burr-Brown DACs, and dual 32-bit DSP engines provide a solid foundation for astonishing Onkyo sound and vision. Built-in is the Dolby Atmos®, the revolutionary surround-sound format. Originally developed for use in multiplex theaters, now you can bring Dolby Atmos into your own home with the TX-NR1030.
Authentic High-Fidelity Amplification
Onkyo's Wide Range Amplifier Technology (WRAT) is designed for high current delivery. High instantaneous current is needed to maintain control of the speaker drivers for precise yet musical audio reproduction, from delicate piano passages to the thunderous roar of an action movie soundtrack. Backed by a massive high-output transformer, the amplifiers feature a discrete low-impedance output stage with high-current transistors for instantaneous power and very low distortion. The resulting sound is detailed, dynamic, and highly realistic for both stereo and multichannel listening.
Feel Every Dimension in Dolby Atmos™
Enter a new world of sound with Dolby Atmos®. It transports you from an ordinary moment into an extraordinary experience with captivating, multidimensional sound that fills your room with amazing richness and depth. Music, people, and objects come alive in breathtaking detail and flow in precise choreography all around you, making you feel like you are truly there. This Onkyo receiver features Dual 32-bit DSP engines to decode and scale Dolby Atmos to your home theater layout. With the TX-NR1030's 9 channels of high-current amplification, you can unlock the full experience with in-ceiling height channels or Dolby Atmos-enabled speakers to augment a standard surround sound home theater setup for stunningly detailed sound that comes alive from all directions, including overhead.
Onkyo Sound is Emotion. Delivered.
Drivers don't judge sports cars on top speed alone. Acceleration, cornering, and braking are equally important. It's the same with A/V receivers—wattage is only an indication of loudness, not sound quality.The real test is current. High instantaneous current enhances speaker control for accurate and musical audio reproduction. It's the cornerstone of our amplification philosophy—no other brand can match Onkyo for dynamic driving power.We don't just translate signals into sound.We create sound you can feel.
HDMI 2.0 for 4K Video at 60 fps, and HDCP 2.2 Compatibility
All HDMI terminals feature the latest HDMI specification to support 4K video at 60 frames per second and 21:9 cinema aspect. Now you can add enveloping 9.2-channel surround- sound to next-generation Ultra HD games and video for a breathtaking entertainment experience. TheTX-NR1030 also supports HDCP 2.2 DRM copy protection via HDMI Input 3 and the main output, which is essential for viewing premium streamed and broadcast Ultra HD content.
Separate Construction
As part of the THX Select2 Plus certification promise, this receiver is designed to deliver the highest audio and video quality for an unsurpassed home cinema experience, from right out of the box. Separate Block Construction and anti-resonance chassis eliminates unwanted noise & interference delivering the purest audio performance possible. This provides the benefit of separate stages all in one chassis.
Dual 32-bit DSP Engines for High-Resolution Audio
Most conventional A/V receivers use just one Digital Signal Processor (DSP) to decode digital audio. This Onkyo receiver doubles the power with two 32-bit processing engines handling multichannel studio-master soundtracks along with a large variety of hi-res audio files, including 5.6 MHz DSD (the same format used for Super Audio CD). The dual DSP engines are super-efficient at decoding these complex files so you can enjoy effortlessly smooth high-resolution playback.
Built-In Wi-Fi and Bluetooth
Featuring built-in Wi-Fi and Bluetooth. Our free control app puts a range of streaming options at your fingertips, from universal hi-res audio via NAS to internet streaming services to music on smartphone and tablet. Or pair up and enjoy whatever's playing on your Bluetooth- compatible device with huge cinematic sound. Thanks to Advanced Music Optimizer enhancement, near CD-quality audio is ready in moments, without the wires.
THX Select2 Plus Delivers Reference-Level Sound in Your Home
Hear Movies Precisely As the Director Intended THX certification guarantees the same high-volume, low-distortion sound of a commercial multiplex theater in your own listening space, with high-resolution studio-master soundtracks reproduced precisely as the director intended.
Three HDMI Outputs for Multizone Video
The Zone 2 HDMI output routes 1080p video from media players connected to your receiver to a second TV with easy remote app control. You can send hi-def content to a second TV without having to purchase another Blu-ray player or any other settop box. Connect your additional display using the receiver's Zone 2 HDMI output to watch the same program, or a different one, in two different rooms. HDMI Sub Out is ideal for connecting a projector.
Deeper, Wider, Clearer Sound for Vinyl and SACD
Pure Direct Analog Path Offers Interference-Free Hi-fi Amplification. At the touch of a button on the front panel, Pure Direct Analog Path mode brings higher fidelity to vinyl, SACD, or CD playback via your home theater. With this mode engaged, every digital circuit is physically shut down to prevent electrical interference on analog audio signals. Signals pass directly from the phono or analog audio inputs to the amplifiers and arrive at your front loudspeakers in pure analog form.
4K Video Upscaling and ISF Calibration
Including industry-leading Qdeo 4K upscaling technology , which converts low-resolution video to liquid- smooth 1080p (for a Full HD display) or 4K on compatible Ultra HD sets. Selectable ISF video calibration further optimizes picture quality for stunning images in bright or low-light conditions.
IMPORTANT: Images may not reflect actual product.
Specifications
General
Sound Channels
9.2
Power Output
135 W (8 Ohms, 20 Hz-20 kHz, 0.08%, 2 channels driven, FTC) 160 W (6 Ohms, 1 kHz, 0.7%, 2 channels driven, FTC)
Power Consumption (Max)
1150 W
Total Harmonic Distortion
0.08 %
Frequency Range (Hz)
20 - 20,000
Video Compatibility
4K
3D Ready
Yes
Atmos Compatible
Yes
Dolby Digital
Yes
DTS
Yes
HD Audio Capability
Yes
Additional Surround Formats
Dolby Atmos, Dolby TrueHD, DTS-HD Master Audio, DTS Neo:X
Numbers of Zones
3
Bluetooth
Built-in
User Interface
On-screen:GUI
Certifications
THX Select 2, HDMI 2.0, HDCP 2.2, WRAT
Additional Information
AccuEQ Calibration for Pure Audio Performance; 4K Video Upscaling and ISF Calibration; Separate Construction; Built-In Wi-Fi and Bluetooth; Three HDMI Outputs for Multizone Video
Inputs/Outputs
AM/FM
Yes
Phono Input
Yes
HDMI Inputs
8
HDMI Outputs
3
Component Inputs
2
Component Outputs
1
S-Video Inputs
0
S-Video Outputs
0
Composite Video Inputs
4
Composite Video Outputs
2
Composites Audio Inputs (Analog)
7
Composites Audio Outputs (Analog)
3
Optical Digital Inputs
2
Optical Digital Outputs
0
Coaxial Digital Input
3
Coaxial Digital Outputs
0
XLR Inputs
0
XLR Outputs
1
Headphone Output
Yes
Network
Yes
Sirius/Xm Radio Ready
Yes
RS-232
Yes
USB
Yes
Wi-Fi
Yes
Dimensions
Width
17.13 inch(es) / 43.5 cm
Height
7.83 inch(es) / 19.9 cm
Depth
18.39 inch(es) / 46.7 cm
Weight
45.19 lb(s) / 20.5 kg
Shipping Dimensions
Width
23.7 inch(es) / 60.2 cm
Height
13.27 inch(es) / 33.7 cm
Depth
23.39 inch(es) / 59.4 cm
Weight
55.12 lb(s) / 25 kg
Warranty
Warranty
2 years
UPC
UPC#
751398011771